Fox Sports Oz, Sky NZ Gear Up for MotoGP eSports Grand Final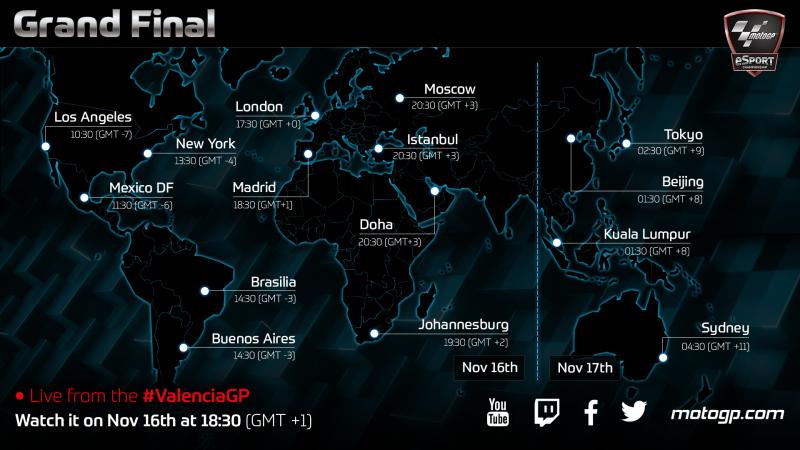 The Grand Final of the 2018 MotoGP eSport Championship takes place November 16 at Valencia at 18:30 (GMT +1).
Twelve players are set to fight it out alongside the season closer for MotoGP, with prizes including a BMW M240i.
The Grand Final deciding who amongst them will be Champion is an hour and a half broadcast including 10 minutes of qualifying before the 10-lap race, and they'll be competing on Lenovo Legion PCs for the event. 
There will be extensive TV and digital coverage of the showdown, with Movistar MotoGP and Movistar eSports for Spain – and Movistar eSports will also show the Semi-Final on YouTube. Fox Sports Australia and Sky New Zealand – the latter on SKY Sport channels and online platforms SkyGO and Fanpass – provide coverage in Oceania, Indonesia can further indulge their incredible passion for two-wheeled competition with coverage on Trans7, beIN Sports provide coverage in the US and Canada and ESPN will broadcast across Latin America with the exception of Brazil. It's all on OSN in the Middle East & North Africa, Sport 5 in Israel and Fox Sports in Asia. Sony broadcast in India on their SonyLIV platform, and MTV3 will broadcast in Finland on both their Digital Platforms and TV. SwissTV RTS show the Grand Final in Switzerland and SKY Italy will broadcast the event in Italy.
Digital streaming will also provide coverage across the world, with motogp.com and esport.motogp.com both showing the event – as well as the YouTube accounts of both MotoGP and the MotoGP eSport Championship. Digital coverage is further augmented via Twitter, Facebook and Twitch.
Visit http://www.motogp.com 
---
SELF-SERVICE WEB SITE ADVERTISING
Manage your own ads on this web site. For more, click the button below.