New Panasonic 4K/HDR Broadcast Shoulder-Mount Camera Recorder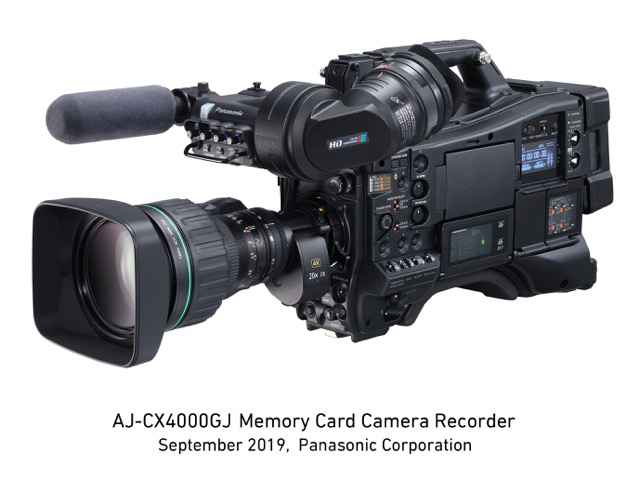 Panasonic Corporation has announced the new AJ-CX4000GJ broadcast shoulder mount 4K camera recorder, which will be launched in December 2019. This product follows the handheld-type AG-CX350 as the new "CX" Series lineup of 4K camera recorders.
The AJ-CX4000GJ is a B4 lens mount interchangeable lens camera recorder that is typical for broadcast use. It is equipped with a large-sized 4.4K image sensor, and enables high quality 4K (UHD) image recording with a horizontal resolution of 2000 TV lines by oversampling. It is also compatible with HDR, compliant with BT.2100 and BT.2020.
The high efficiency and high image quality "HEVC" CODEC is adopted for the recording of 4K images. Long time recording*1 with 4K/10-bit high image quality is possible with a bit rate of approximately 100 Mbps. The high speed transfer and high reliable "expressP2" card or the low running cost "microP2" card (the SDXC memory card can also be used) can be selected for the recording media. It also supports the recording of the "AVC-ULTRA" CODEC (HD)*1 from the conventional P2HD Series. UHD 60p/50p 10-bit 4:2:2 output via a 12G-SDI output is also possible.
Additionally, it offers an innovative network solution. Images can be distributed in HD mode to internet live streaming services using the "Direct Streaming" function, compatible with RTSP, RTMP and RTMPS. The LAN terminal equipped with a lock mechanism (1000BASE-T compatibility) supports NDI|HX connectivity*2. Transmission and camera control is possible with an IP connection, and can be linked to a recording/distribution system combined with Panasonic's remote camera.
For the recording and distributing sports events and documentary recording, this camera recorder offers the high-quality 4K images that are required in the broadcasting industry.
Features include:
Equipped with a large 4.4K sensor, and supports a horizontal resolution of 2000 TV lines of high quality 4K recording and HDR.
High efficiency HEVC CODEC, high speed express P2 card and an agile 4K recording workflow.
Network support such as RTMP-compatible HD live streaming and NDI|HX-compatible IP connection.
Equipped with a large 4.4K sensor. Achieves a horizontal resolution of 2000 TV lines with oversampling.
Depth of field secured with the B4 lens mount and 2/3-inch image circle.
F11 (50 Hz) or F10 (59.94 Hz) sensitivity in High Sense mode with 4K recording.
HDR: Equipped with HLG (Hybrid Log Gamma) to record HDR images that support BT.2100/BT.2020 standards.
12G-SDI output: Enables UHD 60p/50p 10-bit 4:2:2 high image quality output.
Record high efficiency and high quality "HEVC" (H.265) CODEC, 4K/10-bit high image quality with a 100 Mbps bit rate.
Supports recording with "AVC-ULTRA" CODEC (P2 MXF file) from the P2HD Series.*1
Equipped with the "expressP2" card, a highly reliable media for broadcasting that offers ultra-high speed offloading.
Equipped with two slots for the "microP2" card and SDXC memory card. Enables operation with low running costs.
3.4 kg lightweight body and agile shoulder operation with excellent weight balance.
Equipped with a 3.5-inch LCD color monitor. Features a high-resolution of approximately 2.76 million pixels, and enables menu operation using the touch panel.
Equipped with a 2.4-inch monochrome OLED display. The status displays such as the timecode and audio input levels are clear even during outdoor use.
Supports various live streaming using the HD "Direct Streaming" function, compatible with RTSP, RTMP and RTMPS protocol.
NDI|HX compatibility that achieves image transmission and control under conventional LAN environments with easy IP connection.*2
Supports IP remote control via wired LAN. The LAN terminal features a lock mechanism.
Wireless control from a tablet or a smartphone using the CX ROP app (iOS/Android). *3
*1: Use an expressP2 card or a microP2 card for recording in P2 format. Conventional P2 cards may not be used. A portion of the P2 AVC-ULTRA CODEC will be supported from the spring of 2020 with the firmware version upgrade.
*2: NDI | HX, a technology of NewTek, Inc. To use this function, an activation keycode from NewTek is required.
*3: iPad: iOS 9 or later are supported. Android devices: Android 5.0 or later are supported. Wireless module (sold separately; AJ-WM50, AJ-WM50G or recommended third-party Wi-Fi dongle) is required.
Visit https://pro-av.panasonic.net/en/products/aj-cx4000gj/index.html