Panasonic Unveils AW-RP60GJ Remote Camera Controller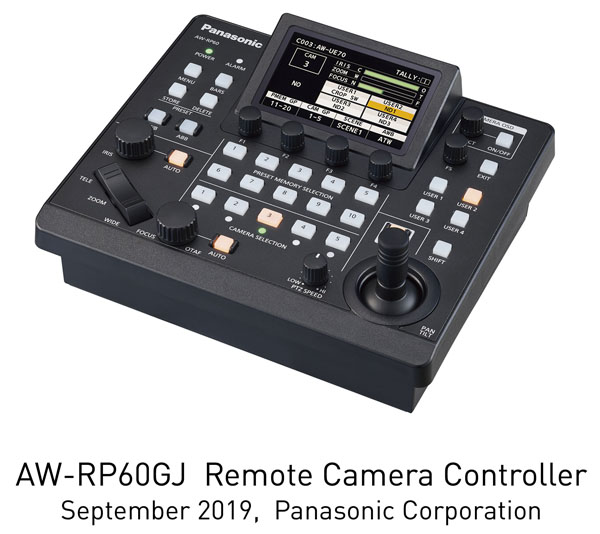 Scheduled for October 2019, Panasonic Corporation has announced the AW-RP60GJ remote camera controller equipped with a GUI menu screen for facilitating smooth camera control.
The AW-RP60GJ comes with a highly legible 3.5-type LCD and an easy-to-hold joystick for pan/tilt control, thus enabling quick and intuitive camera operation. In addition to the conventional camera adjustment functions, it allows for color adjustments such as gamma and white balance. There are also more functions that are convenient and useful in the field, such as user buttons that can be assigned with up to eight desired functions and a customization function that permits the change of the preset data names.
The AW-RP60GJ supports Power over Ethernet (PoE), so it can use a single LAN cable for both camera control and power supply. This makes the controller easy to use in a diversity of applications and reduces the cabling workload during system setup.
The AW-RP60GJ achieves easy and smooth camera control in various situations in which a remote camera is used, such as capturing university lectures and company seminars, and live viewing of events.
The controller is being displayed as a reference exhibit at IBC 2019.
Main features include:
Equipped with a highly legible 3.5-type LCD
An easy-to-hold joystick for intuitive pan and tilt operation
Supports PoE power supply to enable the use of a single cable for both power supply and camera control