AJA Launches FS-Mini Frame Synchroniser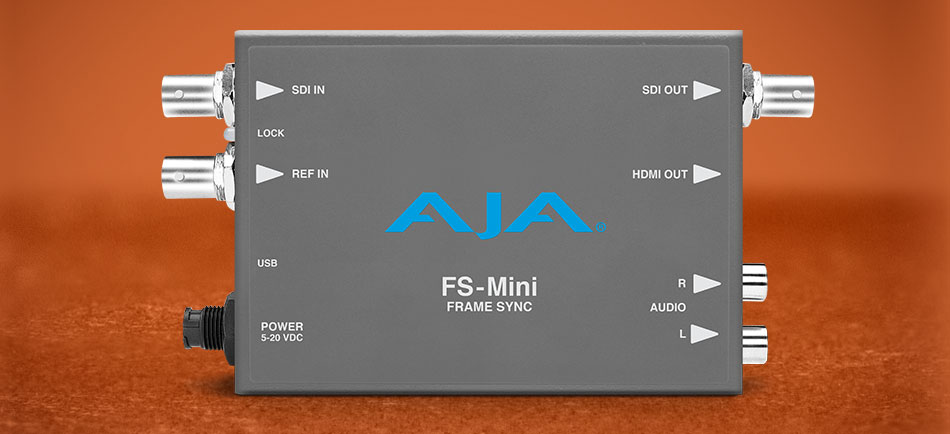 AJA Video Systems has introduced the FS-Mini, a new broadcast quality utility frame sync that packs the production-proven functionality and all of the reliability of AJA's leading FS frame sync technology into a portable Mini-Converter. FS-Mini supports frame synchronisation and up, down, cross-conversion of untimed 3G-SDI, HD and SD video signals. 
"From production to broadcast and live events, professionals often need devices with a smaller footprint, so we wanted to build the FS-Mini to address this need, and are incredibly excited to share it with the IBC audience this year," shared Nick Rashby, President, AJA Video Systems. 
FS-Mini allows users to synchronize and convert a wide range of video formats to their house standard with a 3G-SDI input and output, HDMI output, and a two-channel RCA style audio output Mini-Converter. The device also features a reference input that can be used to lock a local reference and can be easily controlled via local DIP switches or USB and AJA's Mini-Config application. 
FS-Mini feature highlights include: 
Utility frame sync function to time input signals to an external reference
Support for bi-level and tri-level references
Low latency processing, nominal video delay of one frame
Freeze (on input signal loss) to black or last good frame 
High quality 10-bit video processing 
Support for 525i, 625i, 720p, 1080i, and 1080p SDI input signals
Simultaneous SDI and HDMI outputs
Utility frame rate conversion with support for 3:2 pulldown
Up, down, cross-conversion between 3G-SDI, HD and SD video formats
AFD input detection, down-convert control
Simple configuration via a DIP switch or USB and AJA Mini-Config software
DWP-U-R1 universal input power supply (included)
Five year international warranty
Availability
FS-Mini is available now through AJA's worldwide reseller network for $695 US MSRP. For more information,
Visit: www.aja.com/products/fs-mini